Introduction
Our church is reading through the Bible together. Below you will find the resources you will need to join us for this inspiring and encouraging journey!
Take a few minutes to find a plan, make a plan, join our community, and to be ready when your plans don't always work out!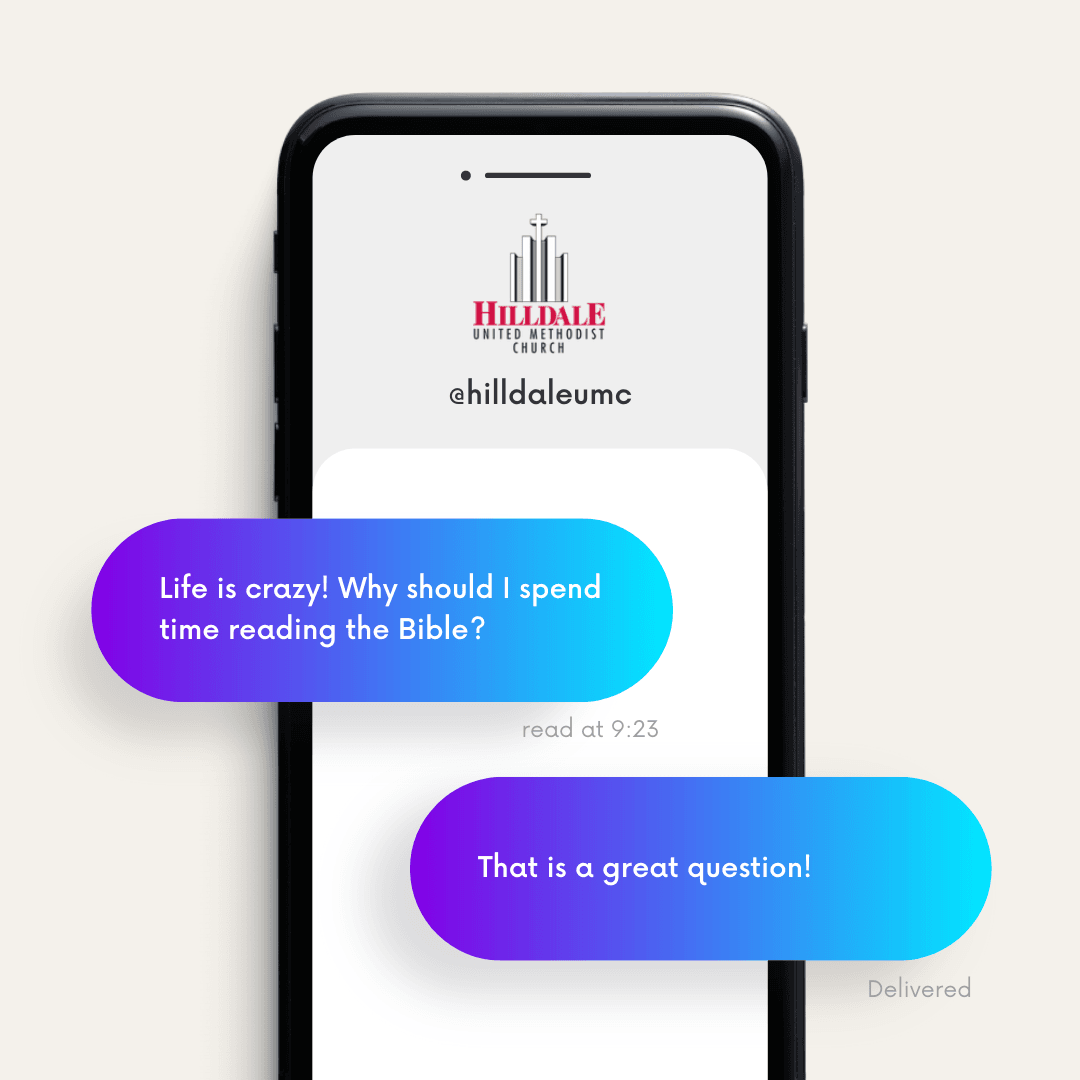 # 1 - Why do we read the Bible?
People read the Bible for a multitude of reasons. Most often, people seek out Scriptures in times of crisis or when they are looking for an answer to a real life problem. While these are both excellent times to turn to Scripture, we want you to have an overarching understanding of the whole of Scripture so that in those moments you know where to go.
And when we read Scripture together as a church, we will find encouragement, inspiration, real life application, moving stories from each other, and a deeper connection with God. We believe that in reading Scripture you will experience the Grace of God anew.
So, whatever you decide is your "why" for reading the Bible, we are with you and believe you will experience God in the midst of every day life. Let's get started...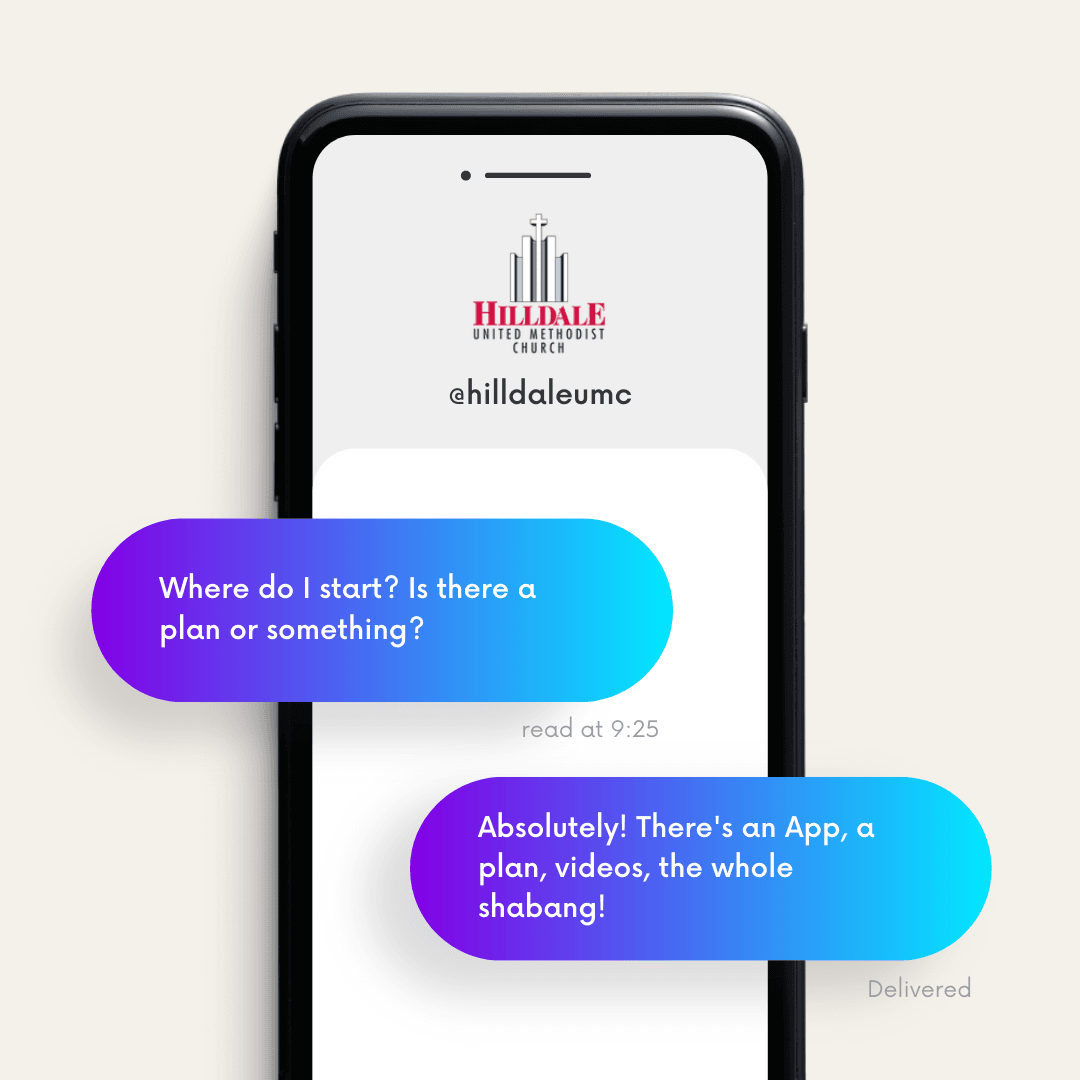 #2 - Find a Reading Plan
Finding a plan is pretty easy but can seem overwhelming with all the plans out there. As a church we are going to be using "The Bible Project" to guide and resource our overview of Holy Scripture.
Also, don't worry! This is NOT a Jan 1 to Dec 31 study. You can jump in any time of the year using the resources below.
Here's a quick summary of where you can find the reading plan...
RECOMMENDED: Option #1, "Bible Project" App (smartphone or tablet)
Why we recommend the app...
The Bible Project just released a brand new app with a really engaging, insightful, and easy to follow "Journey" method of walking through the Bible. It inter-weaves videos, passages, and other resources into a holistic understanding of the history of the Bible, literary styles, and understanding the unique characteristics of each book or story in ways you may have never thought of before. The app also houses all their videos, podcasts, free bible studies, and other resources for you to enjoy.
After watching the introductory video in the "Journey", the app also displays the full text of the biblical chapters and you can read in your own Bible as well. So, with the app, you get the opportunity to read every word of the biblical text and use your own Bible while also getting an engaging guided experience with videos, special studies, unique insights, and all kinds of other opportunities for further study.
Go ahead and download the app, start the first "study" and spend the next few days exploring the app.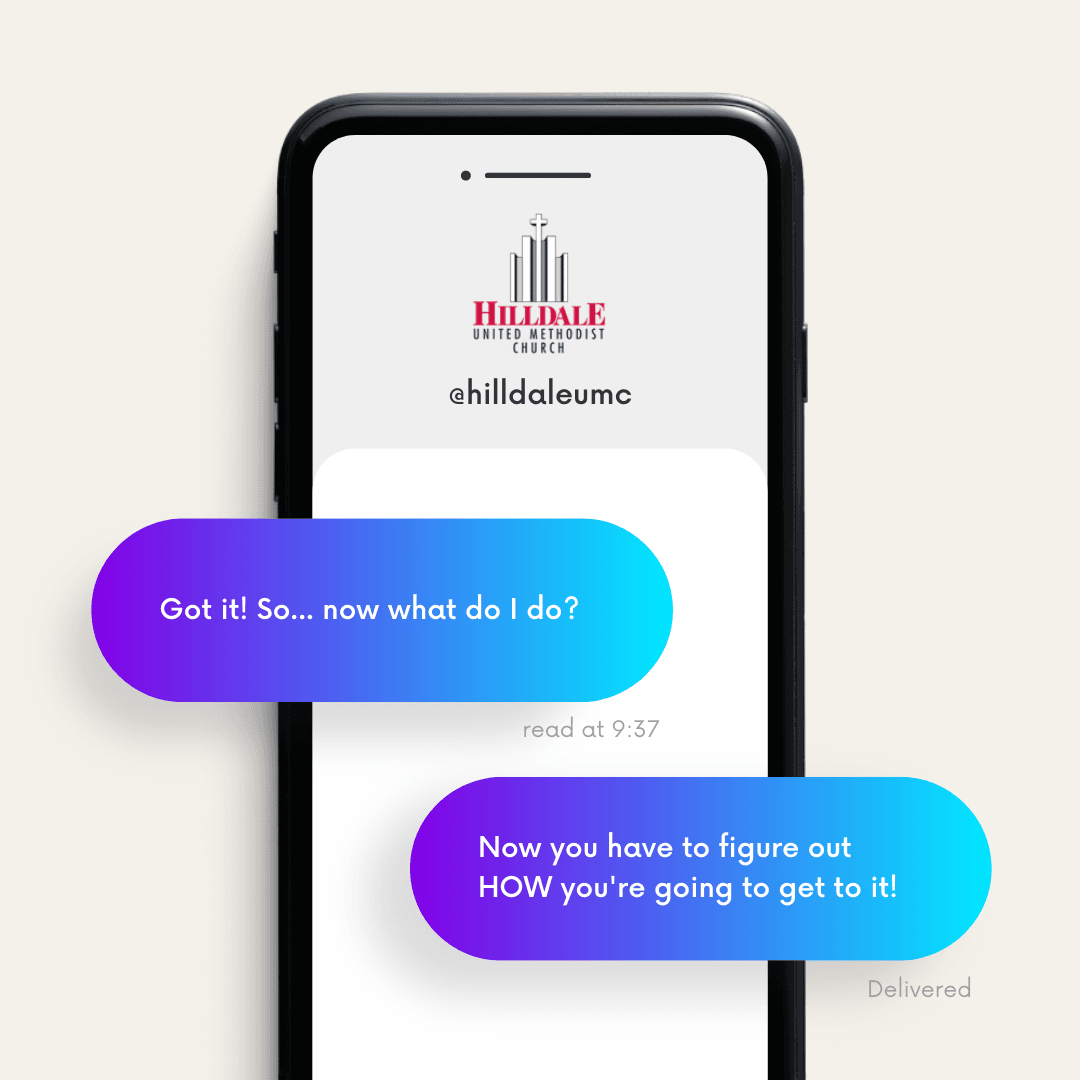 #3 - Make Your Unique Plan
Have you ever had someone give you a diet or exercise plan? What was the hardest part: finding the plan OR making it happen every day? MAKING IT HAPPEN EVERY DAY!
You've got the plan! It's new & shiny. You can put it in your Bible or download the cutting edge app! It feels so good, like progress! Then the alarm goes off for Day 2. You're tired. You've got a lot to do. You don't have time. Where'd you put your Bible anyway? Ugh. I'll do it tomorrow... maybe. ;)
You need to make your very own, unique, daily plan. Here's how...
When are you going to read the Bible?
First thing in the morning. Listen during your commute. First thing at your desk. Lunch break. At the gym before you run or in earbuds during your workout. In carline waiting for the kids. With your family at the dinner table. Before bed.
Idk what works for you, but you do! And if you don't then try one of these and if it doesn't work, don't give up. Just try a different strategy until you find one that works most of the time.
How long will you spend doing it?
10, 15, 20, 30? Whatever amount of time this is, put it in your calendar. Block it out. Make it a priority. You probably have "Take the trash out" or "Call the Cable Company" on your calendar. Why not make this a priority at least equal to those!
Where will you read or use the app?
Put your Bible there. Lay out the plan. Practice walking from the coffee pot to the chair so you have some muscle memory! ;)
In the car? Download the audio version from the Bible app. Buy the Bible on CD. You're a grown person. Show some initiative and don't just "Oh well!" when it doesn't automatically happen.
Be creative & have fun!
What will you need during your readings?
Pencil, notebook, colored pens, highlighters, phone, tablet, special coffee, handheld cross, warm slippers ... whatever you want!
Use things you love so you have fun and enjoy the experience!
Lastly, what is going to happen that derails your plans?
It happens to all of us all the time. We have a great plan and then "life gets in the way."
If you're going to succeed you have to anticipate what might happen and then adapt when it does.
If you were going to read in carline but it's a holiday, now what? You're a commute listener but you're remote all day today. You read at night but the National Championship is on! Personally, I end up using Plan B as often as Plan A, because life always gets in the way.
Grab a notebook right now or open the "Notes" app on your phone and jot down your answers to these questions. If you answer these questions then you will be well on your way! And, if you really want to be successful, share your plan with someone else who knows you well and see if they think you have a good plan. Who knows. Maybe they'll even join you!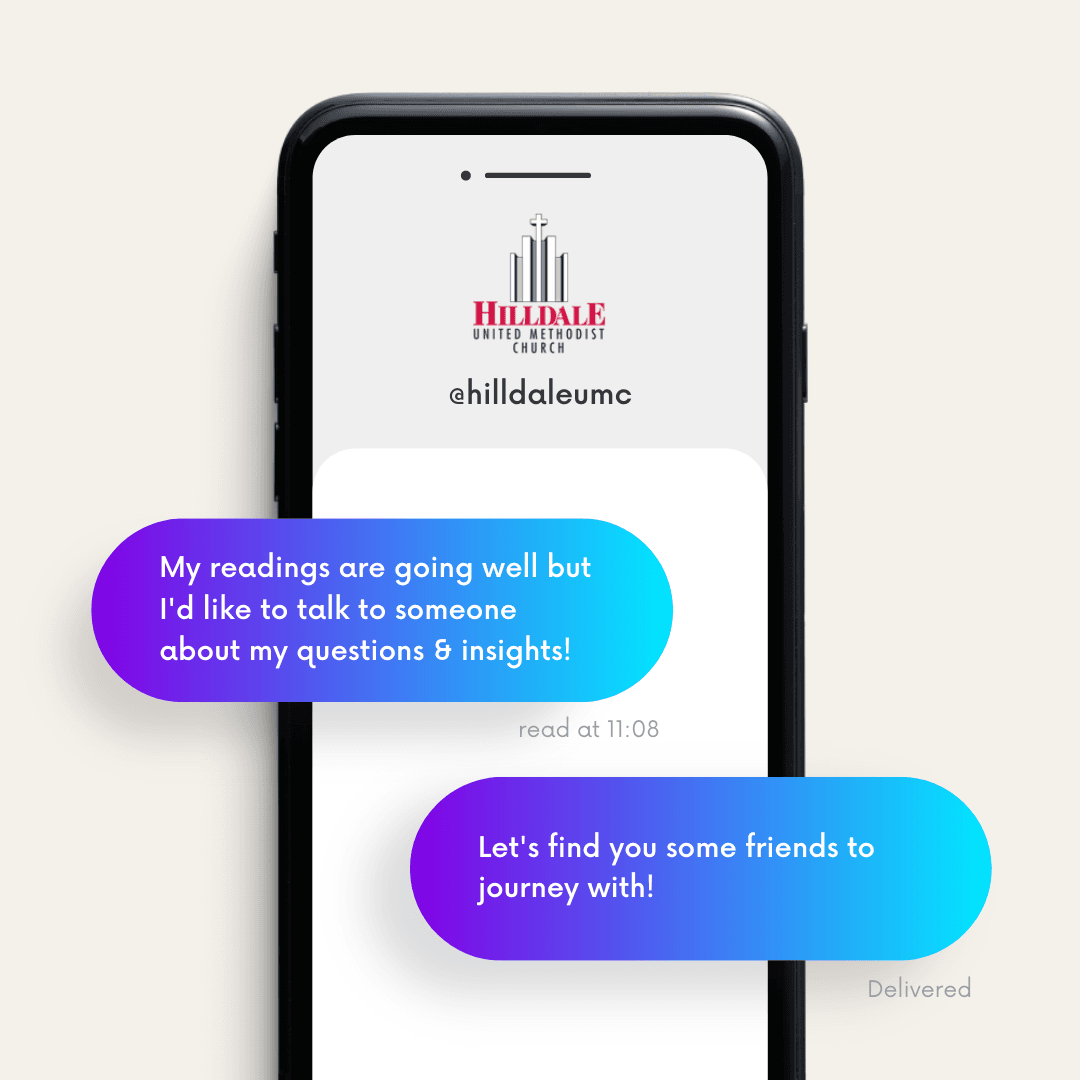 #4 - Connect with Others
We want all of our people to be engaging with Scripture on their own AND with each other. God created us to be together and us being together is where God's presence can be found. As you embark on the Journey then take the Next Step and join a small group of people where you can discuss what you're reading and share insights.
Start your own group
We often wait for the church to create a program and copies and leaders so we can study. But that's not how the early church and the thriving church around world did/do it.
Talk to your friends. Grab dinner once a week. Zoom every Sunday. Start a Facebook group.
Do whatever you have to so that you can engage fully with God and God's beloved children.
Join an existing group
Join a Sunday School class or join us on social media.
We are developing a group to start on Feb. 6th between services that will use The Bible Project and this reading plan as its guide. It will be designed so that if you've done the readings then you will be able to go deeper but also so that anyone can join us any time and jump right in.
Read as a Family
This might mean a discussion or video several days of the week if you have children at home. Or, you may go visit your parents weekly and talk about what you're reading together. (Your Mama called. She wants you to come by more often.)
Parents: watch the videos on the way to school and discuss them with your kids. They're captive. Take advantage of it! Or put the app on your kids devices and let them explore on their own!
Take that next step and join a group. It will make all the difference! If you're looking for a group then join us on social media or check out our existing groups...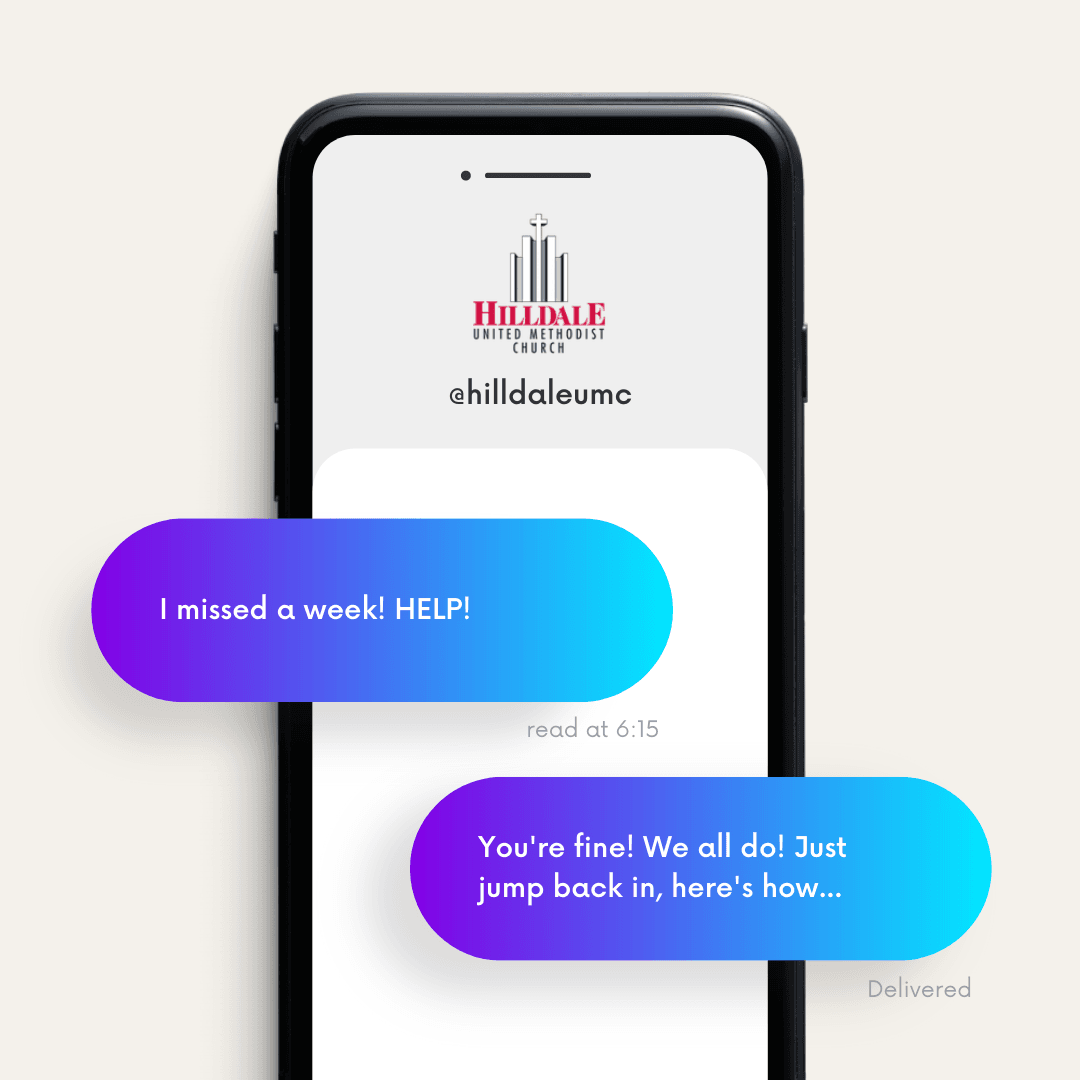 #5 - When You Miss a Day, Jump Back In!
It happens to all of us! You are loved. It's ok.
Catchup Method:
Most people, when they miss a day or several, try to "catch-up" by reading everything they missed. If you have that kind of willpower and time then do it. But I don't. For me, I find that I end up speed reading and not retaining or really thinking about what I'm reading. I'm just trying to get through chapters 8-22 of Leviticus like it's a race.
If you can catch up, do it. But if you can't, then don't let that stop you from doing it all. Use my favorite method...
I was Never Gone Method:
You know those friends & family who make you feel like you never left when you're with them. That's this method. My favorite method. You can do this one of two ways...
Jump to your current date and don't worry about what you didn't read.
This allows you to be right with those you might be reading with and in some of the discussion you'll pick up insights from the readings you may have missed. No shame. Just right back to journeying through the Bible with your group.
If they make you feel bad about it then report them to me and find another group that aren't jerks.
Start where you left off and read at your normal pace.
For those using the app, this is what you'll do. You'll just log back on and pick up where you left off. Don't try to speed through it. Just enjoy where you are!
For those reading the printed plan, just start back on the day you missed and that is your new today. You'll notice the PDF plan has the days #'d, not dated. Just check them as you go and jump back in if you miss a day or more.
Got questions?
I'm impressed you made it this far! If you have any questions or want help making your reading plan then let us know...