Coronavirus / COVID-19 Response Announcement: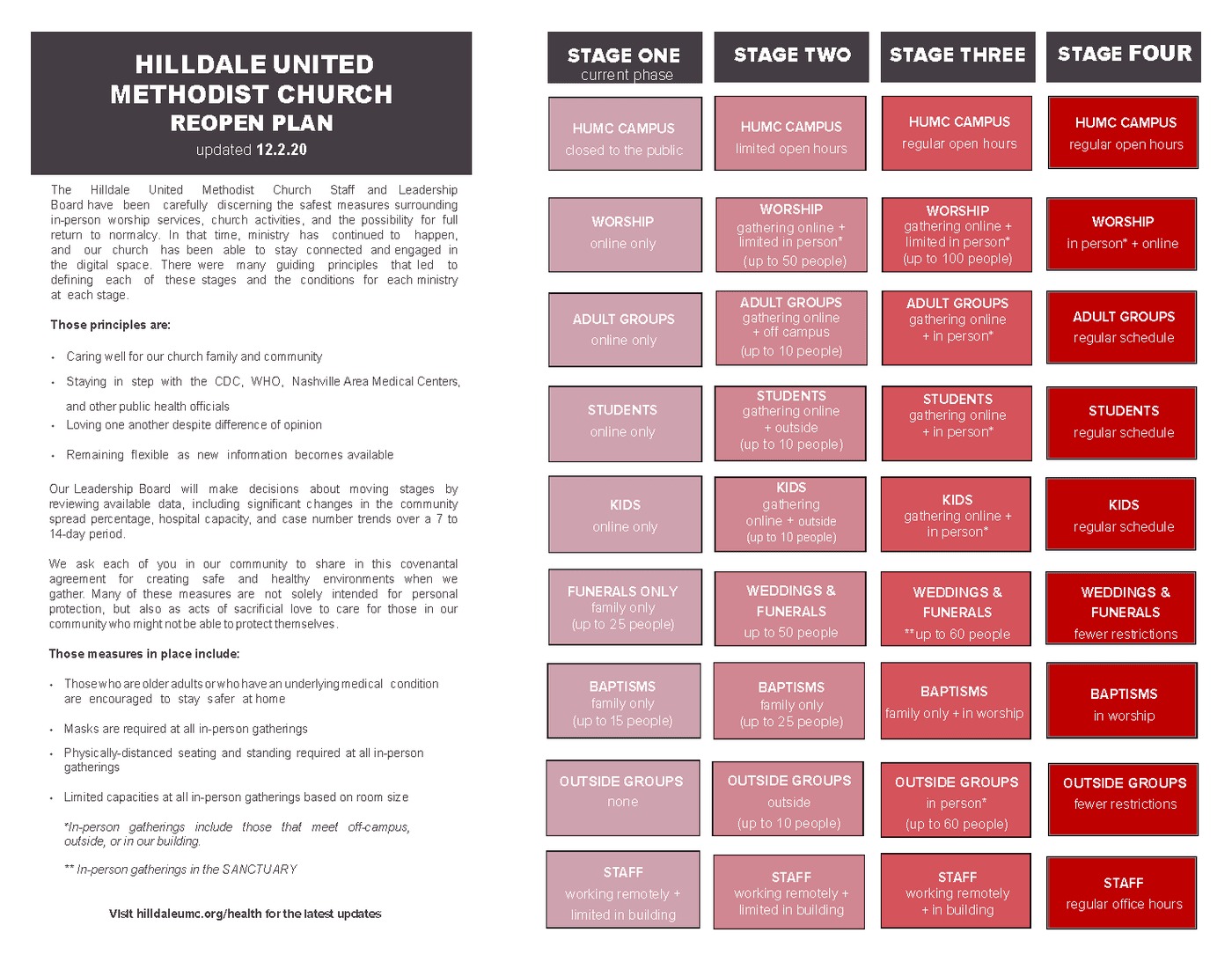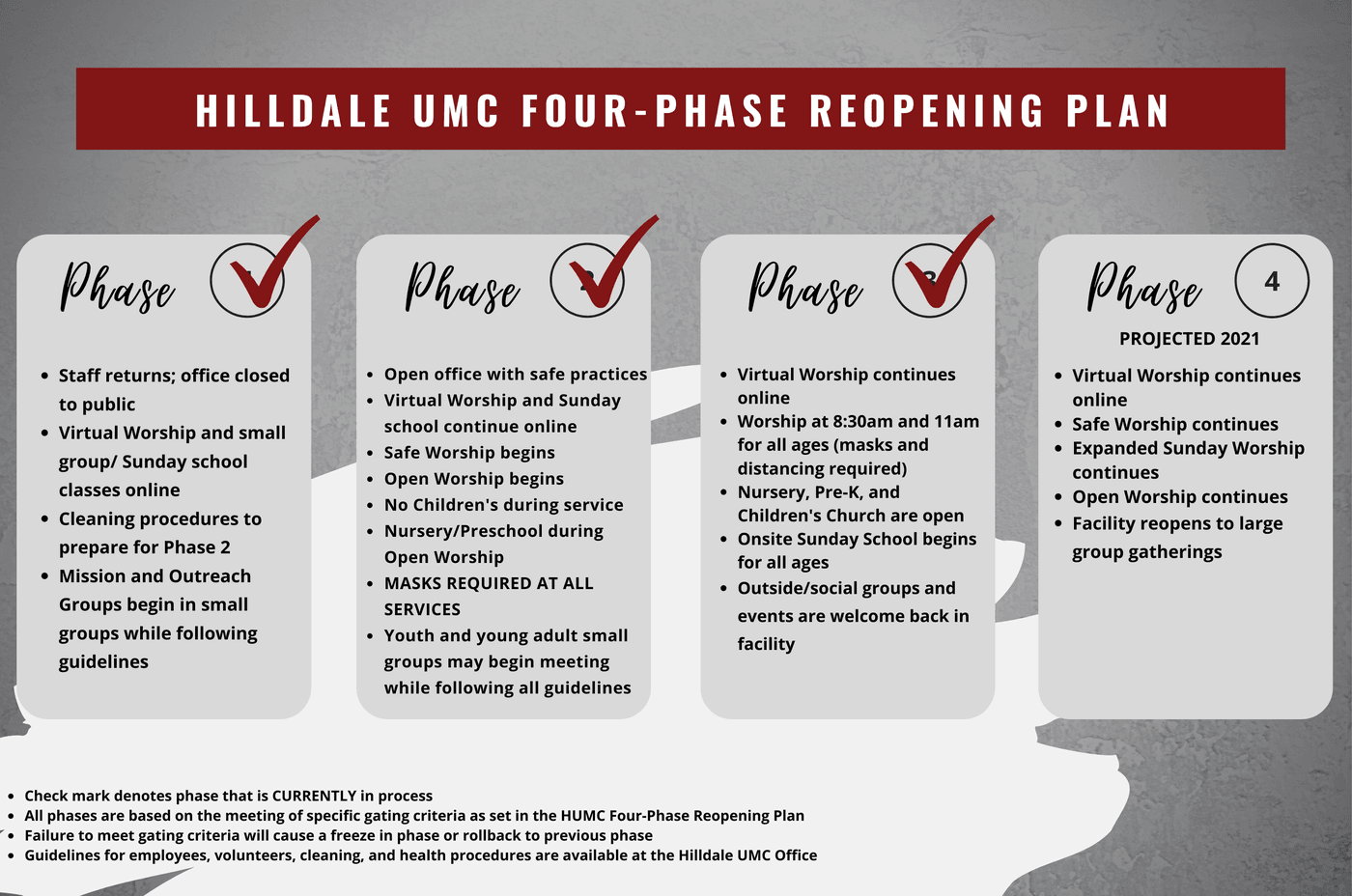 Loving God. Loving people. Making this world a better place!
The physical and spiritual health of our people and our community are of paramount importance to us! The Leadership Board and staff of our church prayerfully consider the information we receive from the scientific community, government leadership, and our local public health experts. This information, coupled with recommendations from the UMC Episcopal Leadership (Bishop's) Office, is all considered and evaluated regularly to make sure we are responding quickly and effectively.

PHASE 3!!
We have entered Phase 3 of our church continuing to be open! Our community is hitting the necessary metrics of our Leadership Board with a low active case rate, normalized ICU bed availability, and many people getting their vaccines.
What does Phase 3 mean? In short...
8:30 am Worship is open to all ages in the Sanctuary!
11:00 am Worship is open to all ages in the Sanctuary!
Virtual Worship continues indefinitely!
All services will have Nursery, PreK, and Children's Church!
Sunday School Classes can begin meeting in their classrooms!
Masks & Distancing are Required in Worship, Common Areas, and Offices
Classes and Sunday School teachers will discuss their mask and distancing policies. Come prepared to wear masks and distance until otherwise discussed.
Children's Ministry Leaders and Participants will mask to protect our wonderful teachers and because distancing is difficult with smaller children.
Youth Ministry Leaders and Participants will mask when distancing is not possible.
As you know, we have been prayerfully watching for three (3) key indicators to continue our opening phases, and the Phase 3 metrics were reached...
Active Cases to be in downtrend or holding steady
Active Cases less than 0.25% of our county's population
ICU Available Beds near normal (approx. 20% available)
We have been able to take our continued opening steps because our most at-risk populations have had the opportunity to be vaccinated or they are now able to register in Vaccine Phase 1C. If you have not had your vaccine, then talk with your medical professional and get more info here... https://vaccinate.tn.gov/
We realize that some of you will not be able to return to church just yet and we completely understand! Virtual Worship will continue indefinitely. Also, talk to your Sunday School teachers and ministry group leaders about how they are meeting and if you can join virtually for a hybrid model. We will make sure this is available for you.
I'm looking forward to seeing you Sunday at 8:30, 11:00, and in Virtual Worship!
We want to remind you that the church was always open. Hilldale UMC has continued to be the face of Christ in this time of at-home worship and separation.
Worship is still going strong! We are worshiping in-person, online, and enjoying our time together in the chat from both places!
Our prayer team is praying immediately for requests submitted on our site. If you need prayer, you can request it at hilldaleumc.org/prayer
Our Good Neighbor program has continued to serve the community and help those in need during this time.
Your Hilldale staff has been hard at work creating special worship experiences from our Home for Christmas presents AND our Lent-in-a-Bag for the Lent / Easter season!
We will have a Maundy Thursday, Good Friday, and Easter Sunrise service!
We have been reaching out to the most vulnerable of our congregation by sending cards, making phone calls, and crafting Valentines!
We have volunteers who are willing to help our congregation schedule and attend vaccination appointments!
Our church has been committed to their giving, but we still need your support, so GIVE securely right now, right here... hilldaleumc.org/give
God has continued to bless Hilldale and WE ARE THE CHURCH! If you are looking for ways to participate and give back in our community, you can find them by clicking right here... #BeTheChurch
We will continue Virtual Worship as well as Sunday School and other meetings by video chat. Every week you will find a service on Facebook, YouTube, and our website... hilldaleumc.org/worship... as well as additional discipleship resources for all ages.
We are so very excited to be together again!
Though we are excited to be together again, we do ask that you love each other, and your staff and leadership board, by following all guidelines to keep your Hilldale family safe and to ensure our continued movement toward a full return!
Stay tuned for information on these new ways to interact with your Hilldale family!
Connecting with Each Other
One of the most difficult aspects of our current pandemic has been the isolation and disconnection from familiar relationships, places, and comforts. It is VITALLY important that we stay connected to each other in new and creative ways.
To start, connect with the church through social media. If you don't already have an account with Facebook, Instagram, and/or YouTube then create one and use the links below to "like", "follow", and "subscribe" to the church so you can keep up to date with the latest information and opportunities.
Next, check on the people you know. Call them, text them, and drive by their homes. Our church Care Team is taking care of our homebound, sick, and those in crisis. We need your help continuing to reach out to everyone in our congregation.
We also have a weekly "Hilldale Happenings" email that keeps our church informed of what is going on. Subscribe to that in this quick form below...
PRAY
We are a people of prayer and God's house is a house of prayer.
Pray for the sick, for healthcare workers, for businesses in trouble, for those who are lonely, for out-of-school kids (and parents), for our government leaders, for those living in fear, for each other, and for our church.
Start each day with a time of prayer, asking God to heal our land and make God's presence felt among us!
Offer Hope & Foster Community:
Our vision for this next temporary period is to find new and creative ways to offer the hope of Jesus Christ and foster community with our people. Our community needs you to be doing this too!
What does offering hope & fostering community look like?
Taking a video study together as a class
Log onto our Amplify Curriculum Library here: hilldaleumc.org/amplify
Having Sunday School by Conference Call or Video Chat, if not in-person, at 9:45 am
Writing cards to the homebound or other members
We are working on missional opportunities for you too, stay tuned!
You have to call, text, message, meme, gif, email, FaceTime, Marco Polo, snap, DM, drive by & shout "I love you!", video conference, and throw rocks at windows with boomboxes on your shoulders like you were 16, in love, and your parents forbid you from being together!
Make time in your calendar and energy to stay in contact with each other and bring other people into those connections! Check out our BE the Church page for ways you can help during this time of need. We will update it as we have new ministry opportunities available.

How will we support not meeting for worship financially? We need you to GIVE
We are living the mission of the church even though some of us are still apart.
We are supported through your gifts and ask you to continue to support the mission of our church even though we are not in the Sanctuary on Sunday passing the offering plates. Frankly, we need you to continue giving.
Don't let your attendance stand in the way of your financial faithfulness. Call the office if you have more questions or would like help with the process.
Program Ministries:
What about my kids or youth?