Coronavirus / COVID-19 Response Announcement: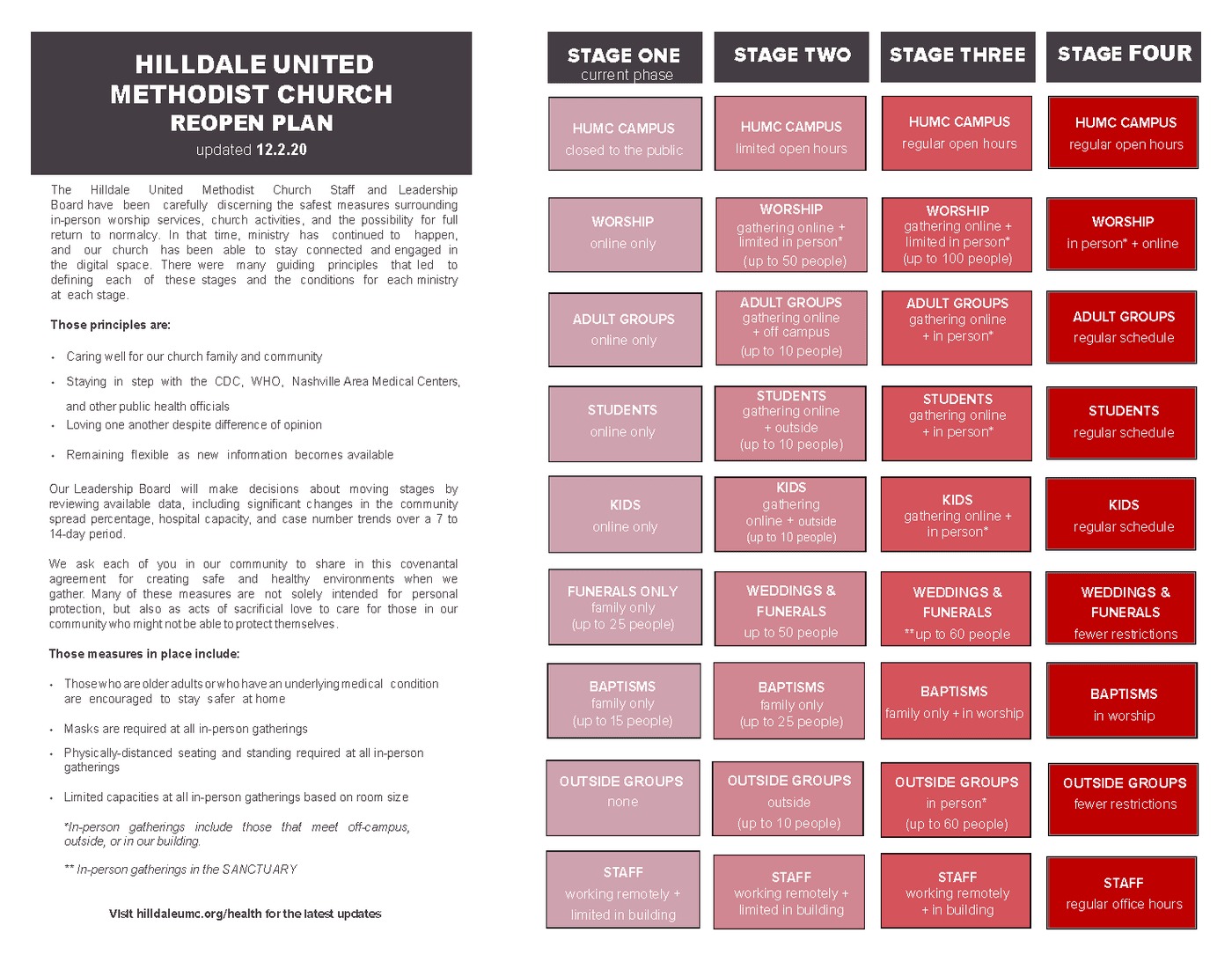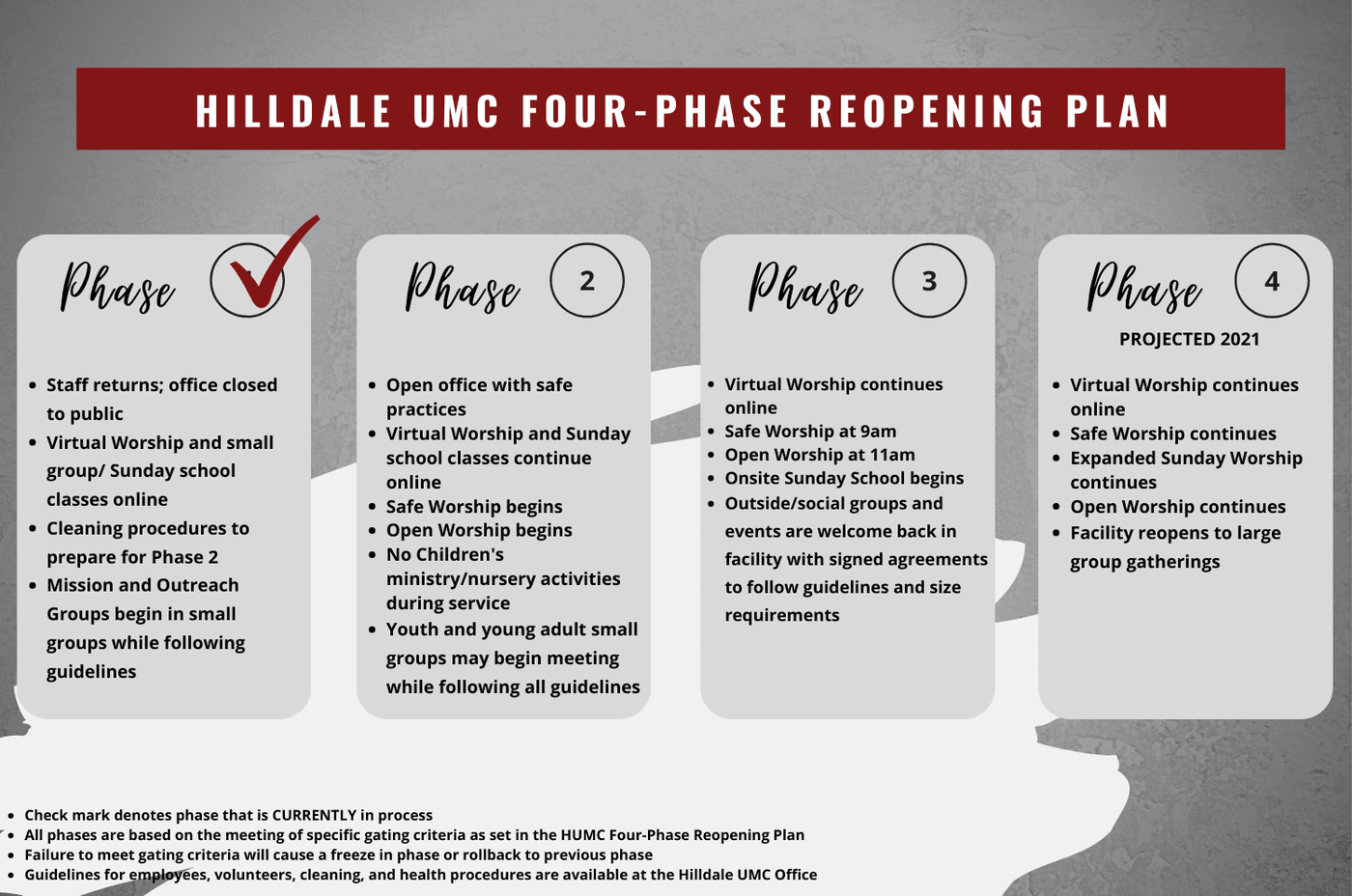 Loving God. Loving people. Making this world a better place!
The physical and spiritual health of our people and our community are of paramount importance to us! The Leadership Board and staff of our church prayerfully consider the information we receive from the scientific community, government leadership, and our local public health experts. This information, coupled with recommendations from the UMC Episcopal Leadership (Bishop's) Office, is all considered and evaluated regularly to make sure we are responding quickly and effectively.

December 2, 2020- Rollback to Phase 1
Celebrating this year has been a challenge. We planned for Thanksgiving worried that gathering together could put our families at risk and wondering whether warnings to limit those gatherings were justified. We have watched as COVID cases in our area have increased and as the number of medical resources have decreased.
We have also been touched by COVID in our congregation. We have had twenty-seven (27) active members test positive with COVID-19 since we returned to in-person worship in July, while many others have been traced and quarantined. Nine (9), or one-third, of those COVID positive cases are currently active. Luckily, no transmission has been traced to our church events.
The Leadership Board and Staff of the church have been in constant prayer, research, and discernment around what is faithful and wise for our congregation and community. We have analyzed numbers, listened for school closings, and met formally and informally to talk about our concerns, our plans, and our successes.
As we enter into this Advent season, we recognize that we are experiencing this time of year in a way that we have never experienced it before. If there was ever a year that we needed Advent, this is the year! In the UMC, we focus on Hope, Love, Joy, and Peace as we prepare for the birth of Christ and the change it means for the world. This is a time of celebration and a time of faithfulness.
As the church, we are an institution of hope. At this time of year, and all year, we work to bring hope to our members, guests, and community. We are also an institution of love. We define our actions by faithfulness and love, in order that we may bring joy and peace to others, but we cannot do that if we are causing harm.
After many conversations, prayerful discernment, and difficult discussions around our local area statistics, heartfelt pleas by medical professionals, as well as recommendations by government leaders, educators, and our Bishop's office, our Leadership Board is suspending all in-person church activities through the middle of January. That means no in-person worship or Sunday School. Missions will continue with strict safety procedures.
We know that there will be questions and concerns about this decision, especially considering this Holy time of Advent and Christmas, and we want to make sure that the members of our congregation fully understand our thought process and the heart of our Leadership Board and staff.
Sunday, December 6th at 9:30 am, we will host a Facebook LIVE Q&A session with myself, Pastor Stephen Sauls, and Robert Bryant, Leadership Board Chair. We invite you to join us live before Sunday School and our virtual service and ask questions, share comments, and discuss together this difficult decision.
The church is NOT closed and if anyone says it is, we expect you to correct them! We will worship, offer discipleship, share the love of Christ, continue in missional engagement, celebrate well the birth of our Savior, and care for one another with excellence, all while doing everything we can to keep each other and our community healthy for the Advent / Christmas Season.
We will worship together at 11:00 am on Facebook and through our website at hilldaleumc.org/worship or directly on our YouTube channel. Our staff is also working on some exciting new opportunities for connection and fellowship during this time of physical separation, and some very special ways to celebrate the holiday season together.
Stay tuned for information on these new ways to interact with your Hilldale family!
Connecting with Each Other
One of the most difficult aspects of our current pandemic has been the isolation and disconnection from familiar relationships, places, and comforts. It is VITALLY important that we stay connected to each other in new and creative ways.
To start, connect with the church through social media. If you don't already have an account with Facebook, Instagram, and/or YouTube then create one and use the links below to "like", "follow", and "subscribe" to the church so you can keep up to date with the latest information and opportunities.
Next, check on the people you know. Call them, text them, and drive by their homes. Our church Care Team is taking care of our homebound, sick, and those in crisis. We need your help continuing to reach out to everyone in our congregation.
We also have a weekly "Hilldale Happenings" email that keeps our church informed of what is going on. Subscribe to that in this quick form below...
PRAY
We are a people of prayer and God's house is a house of prayer.
Pray for the sick, for healthcare workers, for businesses in trouble, for those who are lonely, for out-of-school kids (and parents), for our government leaders, for those living in fear, for each other, and for our church.
Start each day with a time of prayer, asking God to heal our land and make God's presence felt among us!
Offer Hope & Foster Community:
Our vision for this next temporary period is to find new and creative ways to offer the hope of Jesus Christ and foster community with our people. Our community needs you to be doing this too!
What does offering hope & fostering community look like?
Taking a video study together as a class
Log onto our Amplify Curriculum Library here: hilldaleumc.org/amplify
Having Sunday School by Conference Call or Video Chat at 9:45 am
Writing cards to the homebound or other members
We are working on missional opportunities for you too, stay tuned!
You have to call, text, message, meme, gif, email, Facetime, Marco Polo, snap, DM, drive by & shout "I love you!", video conference, and throw rocks at windows with boomboxes on your shoulders like you were 16, in love, and your parents forbid you from being together!
Make time in your calendar and energy to stay in contact with each other and bring other people into those connections! Check out our BE the Church page for ways you can help during this time of need. We will update it as we have new ministry opportunities available.

How will we support not meeting for worship financially? We need you to GIVE
We are living the mission of the church even though we are apart.
We are supported through your gifts and ask you to continue to support the mission of our church even though we are not in the Sanctuary on Sunday passing the offering plates. Frankly, We need you to continue giving.
Don't let your attendance stand in the way of your financial faithfulness. Call the office if you have more questions or would like help with the process.
Program Ministries:
What about my kids or youth?
Meetings, Groups, and Administrative:
Our office is CLOSED to non-staff visitors or essential ministry volunteers. You are welcome to schedule an appointment to meet with Pastor Stephen, or to reach out to any of our staff, by calling the office at 931-647-2249 or emailing office@hilldaleumc.org
Administrative meetings are taking place via video conferencing and email. If you have a question about how to join your team then contact your team leader.